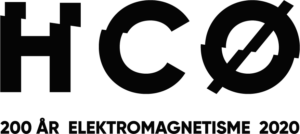 In celebration of the 200th anniversary of H. C. Ørsted's discovery of electromagnetism, SNU has agreed to participate in the HCØ2020 initiative, a nationwide dissemination initiative to promote science education and training.
In SNU, our main focus will be on our lecture series, as well as a major exhibition about Ørsted and electromagnetism that will open in the Round Tower on 1/7-2020 and be available for 3 months. before being packed together and sent on to the SDU and later the Steno Museum.
HCØ2020 is initiated by the Technical University of Denmark and is led in a consortium of Danish Universities, Astra (National Science Centre), Experimentarium and the Danish Danish Society of Sciences.
The HCØ2020 National Dissemination Initiative consists of 12 signature projects covering the three focus areas: Culture, Education and Science.
The cultural area is led by experimentarium.
The field of education is managed by Astra (national science centre).
The field of science is led by the Danish Danish Society of Sciences.
You can read more about our activities here and more about the whole initiative here
SNU is supported by: